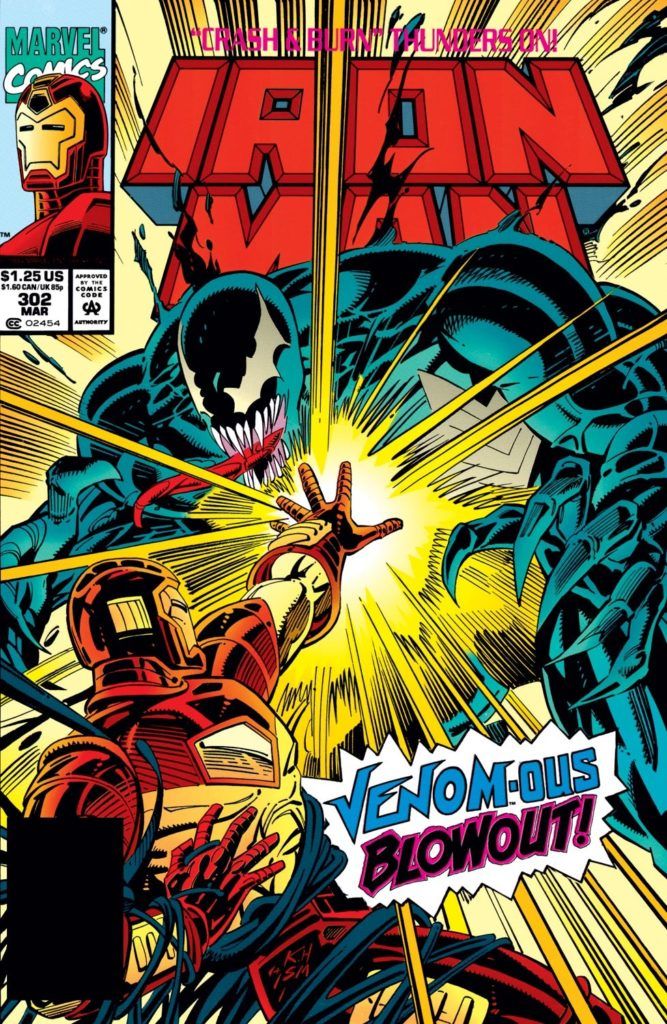 Iron Man #302 – Crash & Burn (Part 2 of 6): Oil And Gold released by Marvel on March 1, 1994
Believing Stark's company preys on innocents, Venom bites off Stark's head, only to find that he's been deceived by an LMD. Venom finds the real Stark but Tony narrowly evades him, staying one step ahead of his pursuer until he reaches his armory and becomes Iron Man. Using psychology as they battle, Iron Man turns Venom's claim that he defends the innocent against him, condemning Venom as a monster and convincing him to leave Stark alone and give him time to prove his goodness. Zimmer investigates the hacker who broke into Stark's computers. Bethany helps Tony after the battle.
Seeing them together raises Veronica's suspicions. Dwayne Taylor contacts Tony about a plasma inversion dam Stane built in Nadua, Africa, but Tony brushes him off. Deciding politeness has failed to yield results, Dwayne and his fellow New Warriors prepare for a confrontation. Just as Tony gets off the phone his next appointment arrives: Capt. America.