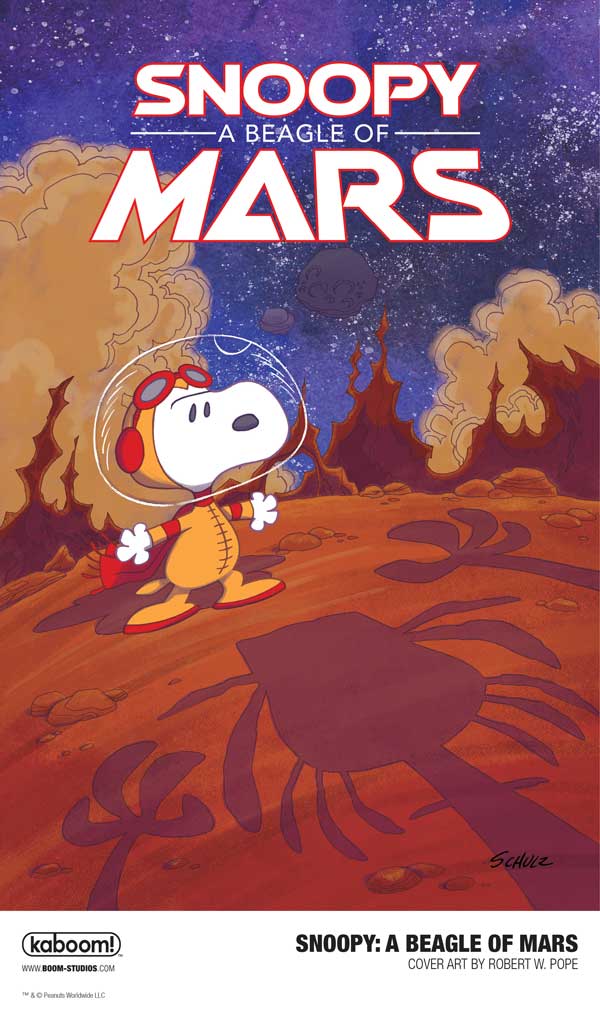 One Small Step for Snoopy, One Giant Leap for Beagles and Mankind in December 2019
LOS ANGELES, CA (November 12, 2019) – BOOM! Studios today revealed a first look at SNOOPY: A BEAGLE OF MARS, an all-new original graphic novel in partnership with Peanuts Worldwide, that launches the world's most beloved beagle on his grandest adventure yet! Snoopy embarks on an exploratory mission to Mars in this original graphic novel written by Jason Cooper, illustrated by Robert Pope and colored by Hannah White, and available in stores December 2019.
NASA has shared a proud association with Charles M. Schulz and his American icon Snoopy since Apollo missions began in the 1960s. In May 1969, Apollo 10 astronauts traveled to the Moon with the aid of a lunar module named Snoopy and a command module named Charlie Brown. That was also the year of the first Silver Snoopy Award — given by NASA astronauts to employees and contractors for outstanding achievements related to human flight safety or mission success. Fifty years after their first collaboration, Peanuts Worldwide and NASA entered into a multiyear Space Act Agreement in 2018, engineered to inspire a passion for space exploration and STEM education among students.
In SNOOPY: A BEAGLE OF MARS, Snoopy, the world-famous astronaut, heads to the stars in his most out-of-this-world adventure yet! What mysteries does the red planet hold? Will he find water? Will he find life? Will he find the time to get in a quick nine holes? Snoopy grabs his golf clubs and blasts off for Mars in this original graphic novel from the world of Charles M. Schulz and Peanuts!
SNOOPY: A BEAGLE OF MARS is the latest release from BOOM! Studios' award-winning KaBOOM! imprint, home to comics for middle grade and younger readers including licensed series such as Adventure Time, Steven Universe, Regular Show, Ben 10, and Over The Garden Wall, along with original series like Just Beyond: The Scare School by R.L. Stine and Kelly & Nichole Matthews, Hex Vet by Sam Davies, RuinWorld by Derek Laufman, and Pandora's Legacy by Kara Leopard, Kelly & Nichole Matthews.
Check Out Preview Below