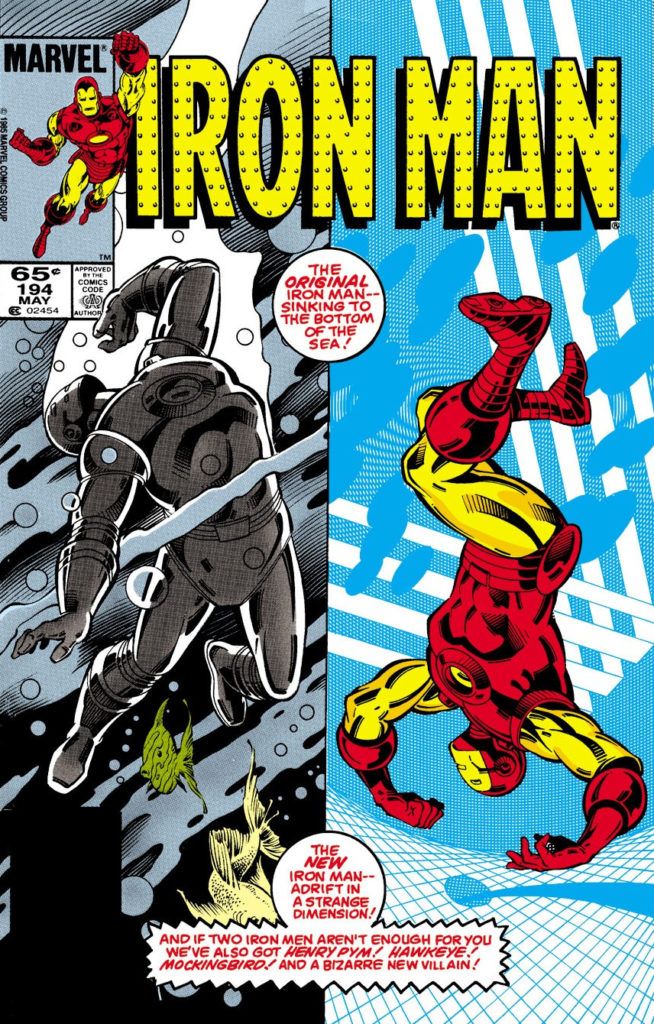 Iron Man #194 – Otherwhere! released by Marvel on May 1, 1985
Plot
It starts as a simple headache. But it's one that just won't stop! Rhodey realizes he must get help for his mysterious malady from disgraced Avenger Henry Pym. Meanwhile, the West Coast Avengers are desperately trying to find the original Iron Man who is lost at sea!
Guest-starring Hawkeye, Mockingbird, and Henry Pym. In an effort to cure his recurring headaches, Jim Rhodes travels to St. Louis to seek help from a former avenger: Dr. Henry Pym! Hank has some treatment ideas, but before the former Ant-Man can share them a robber bursts into the building! And in a strange turn of events; Shell-Head, Hank, and the robber are thrown into a bizarre dimension called Otherwhere! How does the trio get back here from there? Meanwhile, the original Iron Man (aka Tony Stark) miraculously survives his encounter with Godzilla in the Pacific Ocean!
First appearances of Alice Nugent and Scourge.
Cameo appearances by Morley Erwin, Clytemnestra Erwin, Bethany Cabe, Obadiah Stane, Madame Masque, and the Enforcer.