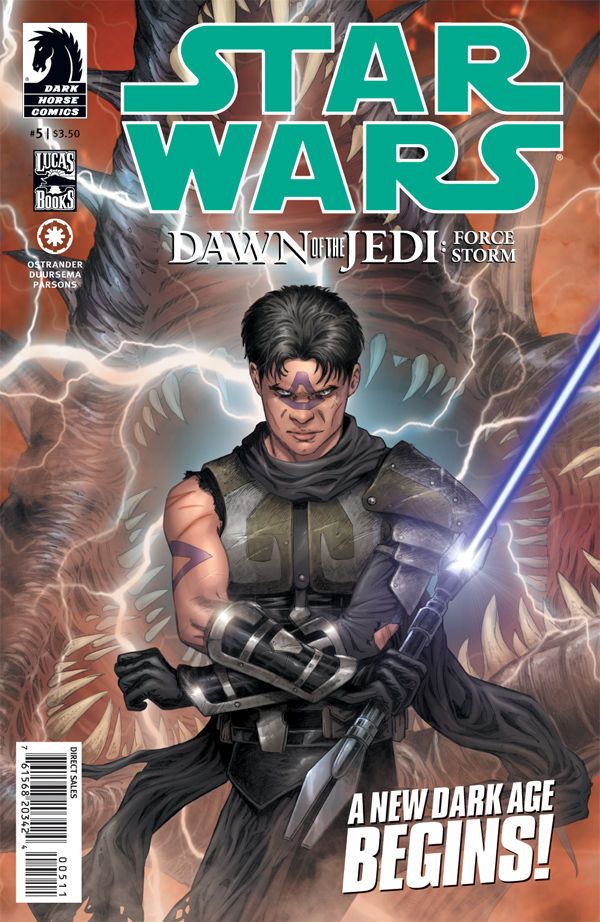 STAR WARS: DAWN OF THE JEDI—FORCE STORM #5

Dawn of the Jedi: Force Storm 5 is the fifth issue in the Force Storm story arc of the Star Wars: Dawn of the Jedi comic book series and the fifth issue of the series in total
On ancient Tython, the Force is out of balance, causing a massive Force storm which could destroy the entire planet!
As three mighty Je'daii Masters strive to subdue the storm, three of their students struggle to forge an uneasy alliance with the dark stranger whose presence created the storm in the first place.
As the first arc of the epic tale comes to a close, powers beyond even the Je'daii's understanding will be revealed, and a threat to the galaxy at large will be unveiled!
The dark dawn of the dark side!
Writer
John Ostrander
Penciller
Jan Duursema
Inker
Dan Parsons
Colorist
Wes Dzioba
Cover Artist:
Jan Duursema
Publisher
Dark Horse
Publication Date: June 20, 2012
Format: FC, 32 pages
Price: $3.50