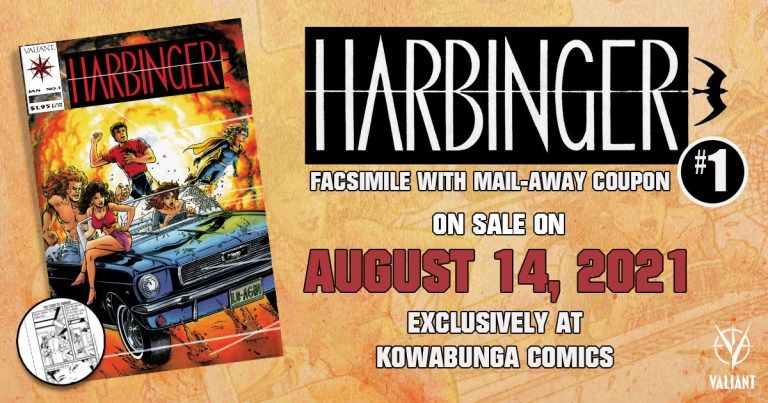 Harbinger #1 – Children Of The Eighth Day released by Valiant on January 1, 1992
Omega-powered psionic, Peter Stanchek, and his girlfriend, Kris Hathaway, are on the run. Only by recruiting Pete's fellow Harbingers — Torque, Flamingo, and Zephyr– can they hope to stay one step ahead of the Harbinger Foundation.
First "original" Valiant universe title.
1st appearance:
The Renegades:
Peter Stanchek (Sting)
Kris Hathaway
Faith Herbert (Zephyr)
Charlene Dupre (Flamingo)
John Torkelson (Torque)
Eel
Lump
Weasel
Return to 1992 and rediscover the hit comic Harbinger #1 with this facsimile reprint that is sure to delight new and longtime fans alike. This Harbinger #1 facsimile reprint edition also includes the original mail-away coupon as well.
The HARBINGER #1 (1992) FACSIMILE REPRINT comic can be purchased HERE exclusively from Kowabunga Comics. This reprint is limited to just 5,000 copies.
The new THE HARBINGER series from writers Collin Kelly and Jackson Lanzing, artist Robbi Rodriguez, colorist Rico Renzi, and letterer Hassan Otsmane-Elhaou is on sale October 27th, 2021.