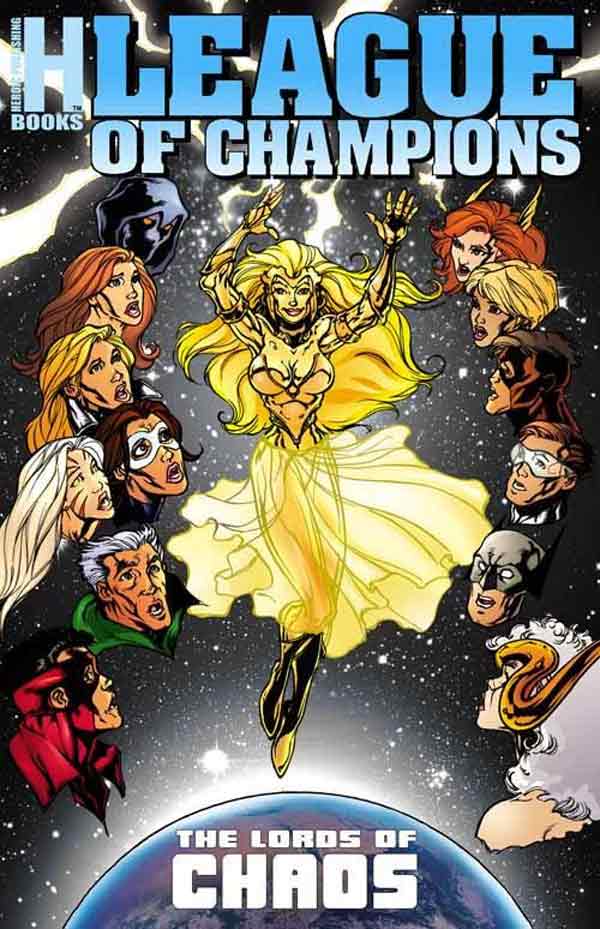 A 116-PAGE GRAPHIC NOVEL COLLECTION THE COMPLETE "LORDS OF CHAOS" SAGA
It's a GRAPHIC NOVEL collection, complete in a single volume, of one of the LEAGUE OF CHAMPIONS' greatest adventures! It happens when fully THIRTEEN of the world's greatest heroes come together to defend the Earth against invasion by a consortium of the legendary LORDS OF CHAOS.
This adventure, written by Dennis Mallonee, features a stellar array of artistic talent, including the late, great DICK GIORDANO, CHRIS MARRINAN, HENRY MARTINEZ, ULDERICO FIORETTI, TERRY PALLOT, and ROB JONES.
Moreover, this adventure features the very first appearances of AURA THE GOLDEN GIRL and JAY-NA THE JUNGLE QUEEN.
It's an adventure told in discrete chapters, each chapter illustrated by a different artist, each chapter featuring a different pair of CHAMPIONS against the power of one of six different LORDS OF CHAOS.
This adventure, originally serialized in League of Champions #13-16, is now being presented for the first time in a GRAPHIC NOVEL format, the complete story in one single volume
The official crowd funding effort for this project is underway, and will run through Tuesday, December 27. Please visit us on Kickstarter and choose from among a whole slew of rewards, including trade paperbacks and sets of Heroic back issues.
Every dollar you can contribute to this project will help provide financial support for the creative people working on Heroic Publishing's upcoming comic book projects, including all of our talented writers, artists, colorists, and letterers.
As always, even if you can't contribute financially to this project, you can still help by sharing this link with your friends and followers on social media: Kickstarter