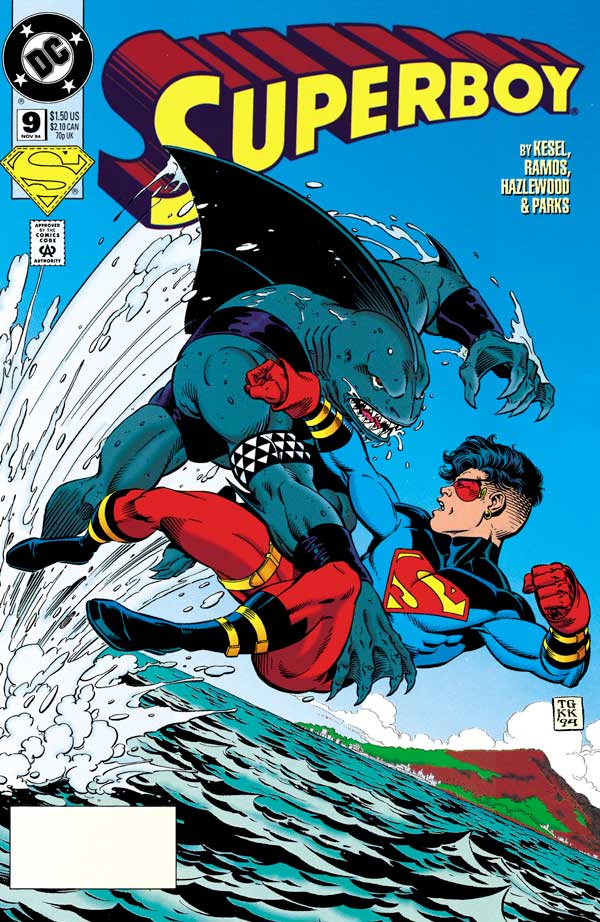 King Shark (September 13, 1994) This Day In Comics
King Shark showed up for the first time in Superboy #9 in 1994. His origins were left ambiguous, implying that he had ties to a legendary Shark-God figure. He became a recurring character in the pages of Superboy, where he was used as a quintessential bruiser villain.
Born in Hawaii, Nanaue is a humanoid shark. His father is "The King of All Sharks"—also known as the Shark god. Originally there were some doubts surrounding his origins, as other characters, such as special agent Sam Makoa, dismissed his origins as superstition and referred to Nanaue as a "savage mutation" and it was also implied that he was one of the "Wild Men", an evolved animal but has since been firmly establishing him as the Shark God's son.
King Shark was responsible for a number of missing persons several years before Superboy arrived in Hawaii. Sam Makoa was responsible for bringing him in and bore the scars to prove it. King Shark is freed by the Silicon Dragons who plan on hiring him. Nanaue is not interested and kills his liberators before heading to his mother's house. His mother allows him to bite her arm off to feed. Superboy managed to take him down with his heat vision. When Superboy and Makoa were assigned to the Suicide Squad to destroy the Silicon Dragons, King Shark was forced to help. An explosive belt was strapped to his waist, set to detonate if anything happened to Makoa. Nanuae was a crazed fighting machine, shredding legions of the Dragons. Despite the belt detonating, King Shark survived the blast and the destruction of the lair. He made his first full appearance in Superboy #9 (September 13, 1994).