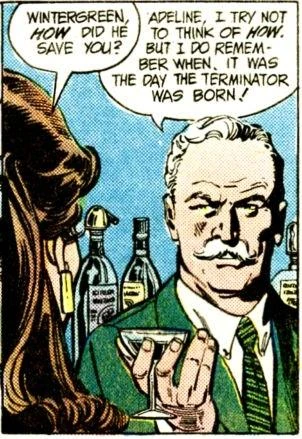 William Randolph Wintergreen (September 11, 1980) This Day In Comics
William Randolph Wintergreen grew up in Oxford, England. At university, he avoided sports and squirreled himself away in the library, which was open to him due to his father's title. He possessed strong research skills, and knowing the conduits through which information flowed later aided him in his work with MI5. Wintergreen met Sergeant Slade Wilson during his time at the British Army, and the two developed a close friendship. Wintergreen then became Slade's butler and mentor, acting as his moral conscience, comrade in arms and medic. Wintergreen also began cataloguing Slade's adventures in journal entries. Slade eventually returned to his mercenary ways, and Wintergreen continued to catalogue his missions. Slade later discovered that he had a daughter named Rose Wilson. Fearing that he would not be a good father, Slade left Rose in the care of Wintergreen, who grew to care very much for her and was even prepared to adopt her, though Rose ultimately joined the Teen Titans.
Wintergreen has received extensive training in military protocols and espionage, making him a proficient hand-to-hand combatant and martial artist. He has also proven an exceptionally skilled marksman in the use of various firearms.
He first appeared in New Teen Titans #2 (September 11, 1980).