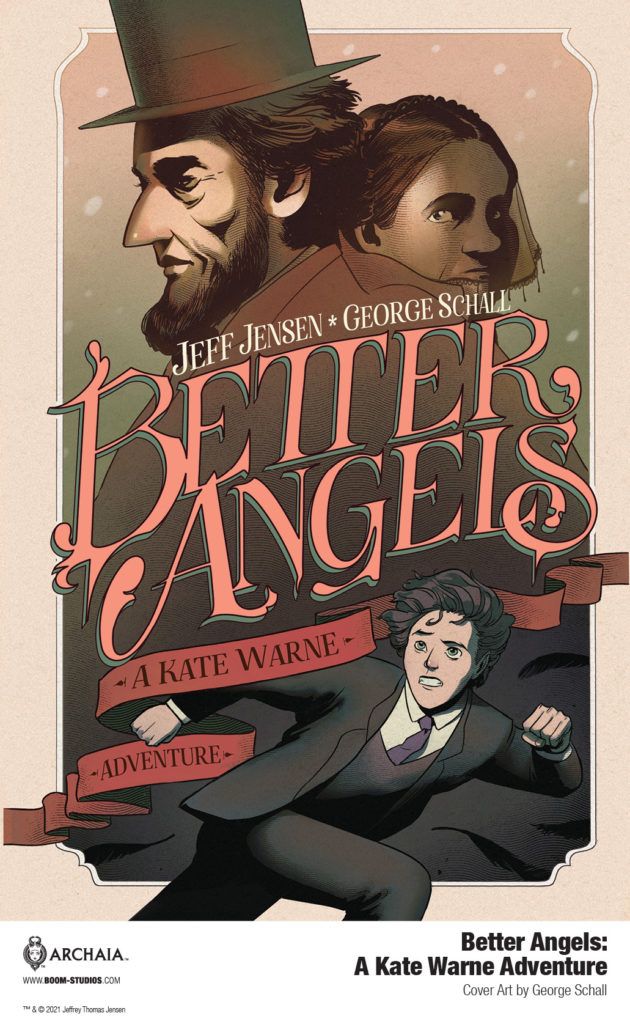 BOOM! Studios today announced a brand new original graphic novel BETTER ANGELS: A KATE WARNE ADVENTURE, from Emmy and Eisner Award-winning writer Jeff Jensen (HBO's Watchmen, Green River Killer: A True Detective Story) and acclaimed artist George Schall (Made In Korea), inspired by the true story of Kate Warne, America's first female detective, and her singular achievement—thwarting a plot by Confederate radicals to kill Abraham Lincoln.
In 1861, America is at a crossroads. Abraham Lincoln, the man tasked with healing the nation, and his family are the targets of a conspiracy to assassinate them. Their safety – and the future of the American experiment – hinges on the success of a new kind of lawman, known by a word still novel in the culture: detective.
But there was only one detective whose extraordinary cleverness, versatility and mystery made them a singular individual who could save the Lincolns. Her name was Kate Warne. This is the true story of America's first woman detective, who saved the life of her country's greatest president and changed the course of history forever.
Jeff Jensen is a writer based out of Lakewood, California, best known for his work as a writer and story editor on HBO's Watchmen, earning Hugo and Nebula nominations, and a writer and executive producer on the 2015 film Tomorrowland. His 2011 graphic novel Green River Killer: A True Detective Story, which dramatized the life and career of his father, Detective Tom Jensen, won the Eisner Award for Best Reality-Based Work. He spent nineteen years at Entertainment Weekly magazine as senior writer, critic, and verbose recapper of TV shows.
"When I first stumbled upon the story of America's first female professional detective and her greatest claim to fame, I wanted to know the answer to a burning question: how did a woman from a small town in upstate New York in the mid-1800s grow up and get THAT job?" said Jensen. "BETTER ANGELS is an answer to that question in the form of a historical fiction adventure that challenges some of this country's self-serving myths that all too often pass for history."
George Schall is a comic book artist/writer from São Paulo, Brasil, whose works have been published by BOOM! Studios, Image Comics, Dark Horse, IDW, Humanoids Inc and others including himself as a self-publishing author. His latest works include the sci-fi miniseries Made in Korea (Image Comics) and the family comedic drama Chasing Echoes (Humanoids Inc). He currently lives in Barcelona and can be found online on Twitter and Instagram @georgeschall, as well as streaming his work and trying to develop a full beard at Twitch.tv/george_schall.
"I can't wait for people to dive into Kate's world of conspiracies and intrigue and wholesome companionship! I'm completely enamored by Jeff's character work in this book: it's fun, deep, emotional, thoughtful, daring! I'm sure everyone will love it too," said Schall.
BETTER ANGELS: A KATE WARNE ADVENTURE is the latest release from BOOM! Studios' award-winning Archaia imprint, home to inspiring graphic novels such as Slaughterhouse-Five by Kurt Vonnegut, Ryan North, and Albert Monteys; The Sacrifice of Darkness by Roxane Gay, Tracy Lynne-Oliver, and Rebecca Kirby; Big Black: Stand at Attica by Frank "Big Black" Smith, Jared Reinmuth, and Améziane, We Served the People by Emei Burell, The Realist by Asaf Hanuka, Girl on Film by Cecil Castellucci and Vicky Leta, Melissa Duffy, V. Gagnon & Jon Berg, New World by David Jesus Vignolli, About Betty's Boob by Vero Cazot and Julie Rocheleau, Waves by Ingrid Chabbert and Carole Maurel, and more.
SEEN: RACHEL CARSON is the latest release from BOOM! Studios' award-winning BOOM! Box imprint, home to groundbreaking original series such as Lumberjanes by Shannon Watters, Grace Ellis, Brooklyn Allen, and Noelle Stevenson; Giant Days by John Allison, Lissa Treiman, and Max Sarin; The Last Witch by Conor McCreery and V.V. Glass; Juliet Takes a Breath by Gabby Rivera and Celia Moscote; The Avant-Guards by Carly Usdin and Noah Hayes; Fence by C.S. Pacat and Johanna the Mad; and Goldie Vance by Hope Larson and Brittney Williams.
"BETTER ANGELS is full of intrigue, adventure, and unexpected humor amidst one of the most important periods of U.S. history prior to the start of the American Civil War," said Sierra Hahn, Executive Editor, BOOM! Studios. "Jensen and Schall weave a captivating and moving story of not just one incredibly courageous woman with Kate Warne, but the group of women detectives she inspired who band together through friendship and loyalty to circumvent tragedy of the highest order."