Below is an overview on how to collect comic books, which comic book to collect, and how to store your collection.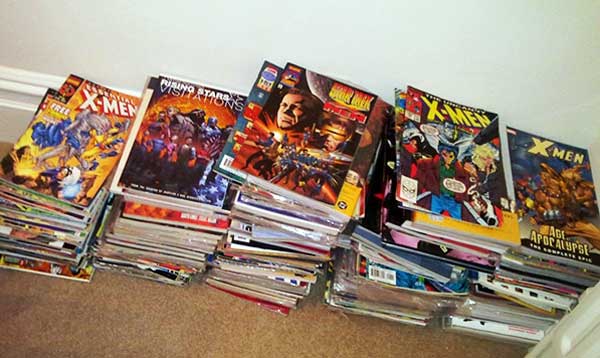 First appearance:
The crème de la crème is the first appearance of a familiar comic character (superhero or villain).
The more familiar the character is AND the older the first appearance is, the greater its value.
The quality of a comic book is also a consideration. Therefore, it is important to protect comic books and to store them in a safe way (more on that later).
Second appearance / Origin:
The second appearance (and even third) of a character has value as well as the comic book which tells about the origin of a character.
Sometimes the second appearance and the origin of a character occur in the same comic book.
Movies & TV series based on comic books:
In recent years, the phenomenon of movies based on comics characters has gained momentum. Following the success of the films, the comics characters also reached the small screen.
For collectors, when a comic character stars in a movie or a television series, its value increases significantly.
The reasons are that the character is exposed to a new audience, and that it gets a certain prestige.
Special events:
Significant events in the life of a character, or in a world where the character lives, have value for collectors.
For example, the wedding of a familiar comics character, the death of a familiar character and even a one-time encounter between Marvel Comics and DC Comics characters.
Costumes:
Most superhero characters have a unique outfit.
When a character receives a new outfit as part of the redesign of the character, it is considered a valuable comic book for collectors.
Series of comic books:
There are series of comic books that are published monthly or quarterly.
A complete series is valuable for collectors, depending on the characters or storyline, and how old it is.
From a time perspective, it is easier to purchase a whole series, if one finds it, than to collect each comic book in that series.
That said, the "hunt" for individual comic books, in order to complete a series, is the fun part of being a collector.
Figure \ Writer \ Illustrator:
Collecting comics is a personal thing. Each collector has different preferences.
There are collectors who focus on collecting comic books of a certain figure or of a certain writer or illustrator.
Here, too, there is value to the first comic book that a particular writer or illustrator wrote or painted, as well to the second and third.
Signature
Many collectors regard a comic book signed by its creator as valuable.
For other collectors, ANY writing on a comic book lowers its value.
Good to know:
Since the introduction of superhero comic books in the 30s, comic books gained popularity with time.
From the 80s, comic books were printed in huge numbers, making them less rare and therefore less valuable for collectors.
Rarity, age, and popularity are the key factors.
Another important aspect to pay attention to is the condition of a comic book.
The higher the condition of a comic book, the more valuable it is.
Here are the terms collectors and dealers use for grading, from best to worst:
Mint (MT)
Near Mint (NM)
Very Fine (VF)
Fine (FN)
Very Good (VG)
Good (GD)
Fair (FR)
Poor (PR)
Some dealers and collectors use more grades in between these grades (for example, VF/NM). Some use the + and – signs (for example, VF+) or just one letter (for example, G for Good).
Comic Books Grading
As mentioned above, comic book condition translates to value.
Problem:
While there are standard terms for grading a comic book, there is a conflict of interest between buyers and sellers.
Sellers might benefit from a higher-grade comic book and therefore argue that a comic book is in better condition in their opinion.
Opposite argument might occur by buyers.
Solution:
There are companies who provide grading services.
This service comes at a cost, both time and money. At the end of the process, the comic book is graded and delivered back to its owner.
Graded comics are sealed in hard plastic.
The 3 main grading service companies are CGC, CBCS and PGX.
In some cases, graded comic books are higher in value and more trustworthy.
For valuable comic books, grading service is something worth considering.
Read More @ RanArtBlog.com