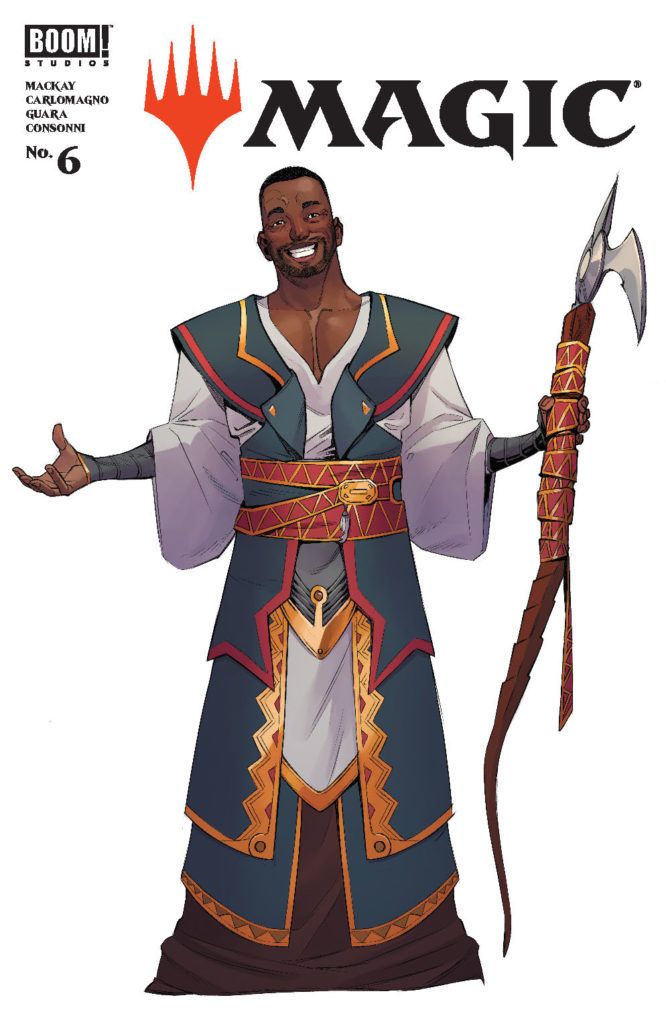 Magic The Gathering #6 – NEW STORY ARC

How does the ancient past hold the key to the future of the entire Multiverse?
Ral, Vraska, and Kaya have finally tracked down the being that can help them unravel the true nature of the threat they face — Jaya Ballard, one of the oldest living, and most experienced, Planeswalkers in existence. And the key to understanding lies in Jaya's origins during the Age of Ice in Dominaria… and a threat that was neutralized, but never truly eliminated.
Written by
Jed MacKay
Pencils
Ig Guara
Publisher
BOOM! Studios
Release Date
September 1 2021
Preview Below
From BOOM! Studios
Magic: The Gathering to their exciting slate of fan-favorite properties. This historic beginning for the pop culture phenomenon launches with MAGIC, a new original comic book series from acclaimed writer Jed MacKay (Marvel's Black Cat), artist Ig Guara (Marvel's Ghost-Spider), colorist Arianna Consonni, and letterer Ed Dukeshire, perfect for new readers and long time fans, available in April 2021.

Across the vast Multiverse, those gifted with a "spark" can tap into the raw power of Magic and travel across realms — they are Planeswalkers. When coordinated assassination attempts on Guildmasters Ral Zarek, Vraska, and Kaya rock the city of Ravnica and leave Jace Beleren's life hanging in the balance, a fuse is lit that threatens not just these three Guilds, but the entire plane of Ravnica. Now these three must covertly infiltrate the wild plane of Zendikar and form a tenuous alliance to uncover why the targets of the assassins have all been Planeswalkers. . . which will lead them straight to one of the most enigmatic characters in Magic history!

Jed MacKay is a comic book writer based in Halifax, Nova Scotia. He is best known for his work on Marvel Entertainment's Black Cat, Taskmaster, and Avengers: Mech Strike, as well as various other titles. He can be found on Twitter at @jedmackay.

"Twenty-five years ago when I was digging through the commons and uncommons bin to build my first deck, I would never have thought that one day I would be handed the reins to the Magic: The Gathering comic, but here we are!" said MacKay. "I'm extremely psyched to be digging into the world of MAGIC and all that entails, and can't wait for all of you to see what we've been cooking up for you!"

Ig Guara is a Brazillian comic book artist, who has worked with publishers including Marvel Entertainment, DC Comics, and Image Comics, on series such as Ghost Spider, Batman: Arkham Knight, and Rose. You can find him on Instagram @igguara.