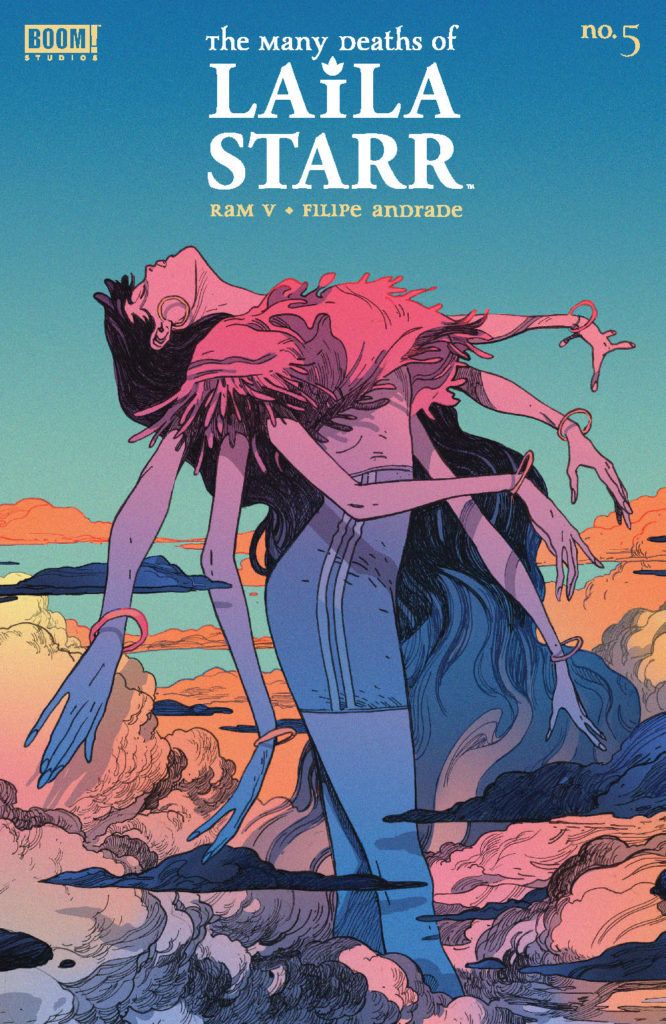 The Many Deaths of Laila Starr #5 (BOOM! Studios) Preview
What will Laila Starr do when she's finally given the chance to resume the mantle of Death? Finding herself back in the world, Laila searches out Darius and discovers that for the first time she will be witnessing the death of someone close to her. When they are both given a chance at immortality, their individual decisions lead to a surprising and touching series finale.
Publisher
BOOM! Studios
Written by
Ram V
Pencils
Filipe Andrade
Cover by
Filipe Andrade
Release Date
September 1 2021
Your First Look at THE MANY DEATHS OF LAILA STARR #1 from BOOM! Studios

Discover a Thrilling and Powerful New Original Series from the Acclaimed Comics Creators in April 2021
BOOM! Studios today revealed a first look at THE MANY DEATHS OF LAILA STARR #1, the first issue in a new original series from acclaimed comics creator Ram V (Swamp Thing, Blue in Green), superstar artist Filipe Andrade (Captain Marvel) and letterer AndWorld Design, that explores the fine line between living and dying in Mumbai through the lens of magical realism, available in April 2021.
With humanity on the verge of discovering immortality, the avatar of Death is fired and relegated to the world below to live out her now-finite days in the body of twenty-something Laila Starr in Mumbai. Struggling with her newfound mortality, Laila hatches a plan and soon discovers a way to be placed at the time and location where the creator of immortality will be born . . . But will Laila take her chance to permanently reverse the course of (future) history, or does a more shocking fate await her within the coils of mortal existence?