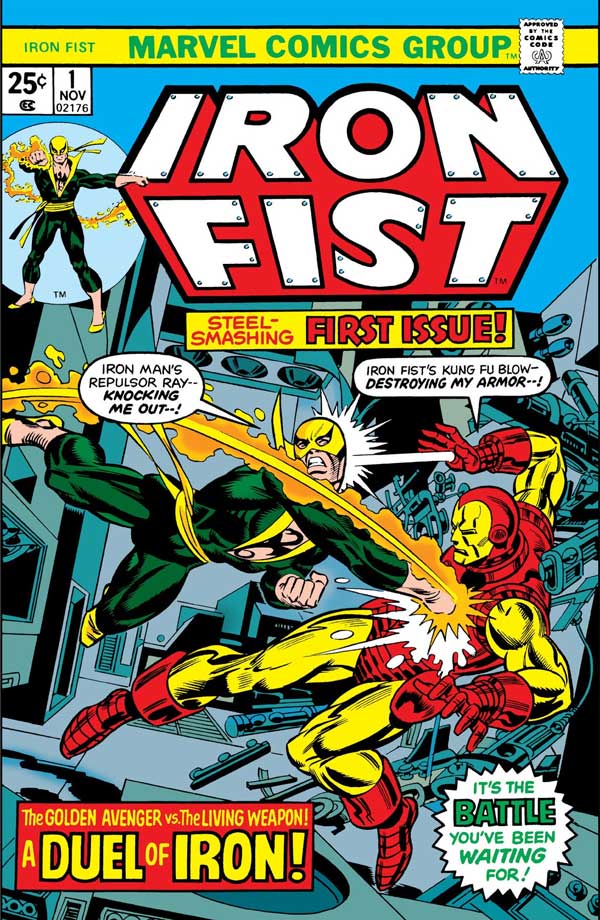 Iron Fist #1 – A Duel of Iron! released by Marvel on November 1, 1975
The saga of Iron Fist begins here! Marvel's mystical Kung Fu crime fighter takes center stage in his own ongoing series. First thing on-tap? Rescuing Detective Colleen Wing! Iron Man guest stars, (and dukes it out with Iron Fist.)
Graduating from Marvel Premiere #25, Iron Fist premieres in his own self-titled series. John Byrne's second attempt at the character falls disappointingly short. His inexperience shows in the lack of dynamism and draftsmanship. Still, Byrne shows glimpses of artistic potential that would turn Iron Fist into one of his signature characters. Iron Man guest stars in this first issue, leading to an eventual battle between the two heroes. Cover by Gil Kane. This is 1 of 15 Iron Fist issues by Byrne. /// key 1st issue / Byrne gallery
Iron Fist #1 – A Duel of Iron!
Writer:
Chris Claremont
Penciller:
John Byrne
Cover Artist:
Gil Kane
Published:
November 10, 1975
Publisher:
Marvel Comics
Believing that Stark Industries is behind the disappearance of Colleen Wing, Iron Fist infiltrates their facility, along with Misty Knight. Misty reveals that Colleen is her partner in running a detective agency, Nightwing Restorations. An intruder alarm is set off, alerting Tony Stark to the presence of intruders. He sets off to investigate the alarm as Iron Man. Iron Man and Iron Fist begin to fight.

Meanwhile, Colleen is taken to an airport. Her attempts to escape are thwarted. Misty Knight uncovers that Colleen is being taken to Halwan, and manages to break up the fight between Iron Man and Iron Fist, revealing that sleeper agents in Stark's organisation were involved in the kidnapping, and that they are headed got Halwan. Iron Man apologises, saying he would help but has prior commitments. Iron Fist and Misty head out to find Colleen.