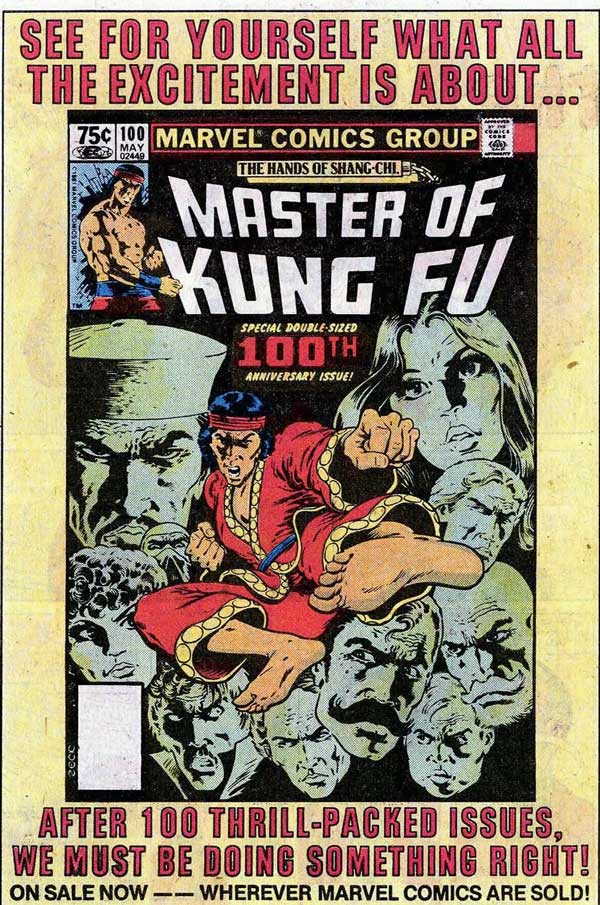 Master of Kung Fu #100 (Marvel) House Ad
Master of Kung Fu #100 – Red of Fang and Claw, All Love Lost released by Marvel on May 1981
Shang-Chi is once again haunted by his malicious father's past.
Shows the early conflicts between Fah Lo Suee and Nayland Smith; also introduces Jack the Ripper.
Written by
Doug Moench
Art by
Gene Day
Mike Zeck
Publisher Marvel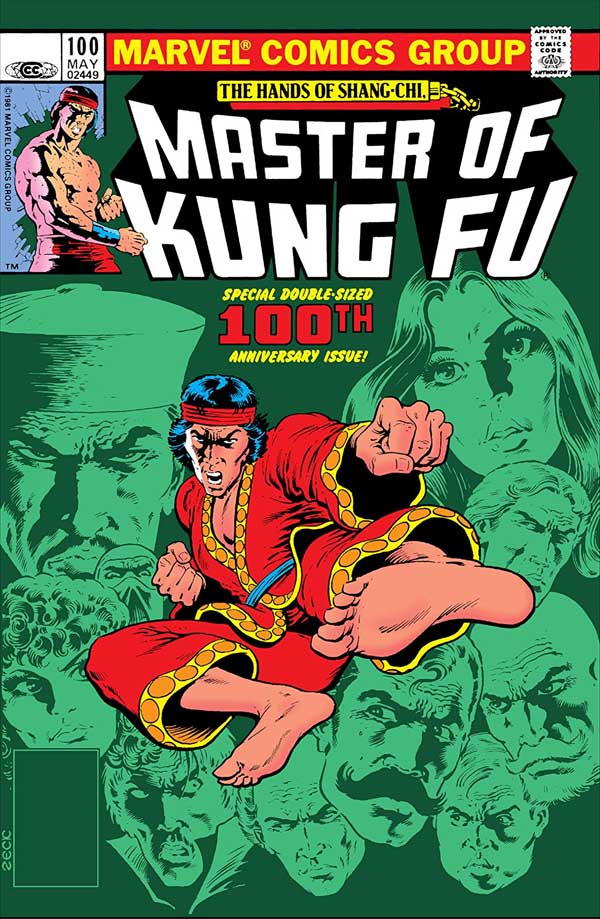 Created by Steve Englehart (creator of Star-Lord) and Jim Starlin (creator of Thanos), Shang-Chi is the Master of Kung Fu. That means he's REALLY good at martial arts. Indeed, the character actually began life as a thinly-disguised attempt to capitalise on the martial arts exploitation boom of the 1970s. Put it this way: it's no surprise his name rhymes with Bruce Lee.
In the 1970's Kung Fu was discovered in America and it became a craze for many years. Enter Shang-Chi, the Master of Kung Fu! After Shang-Chi made his first appearance in Special Marvel Edition issue 15, the series was renamed after the star with issue 17. This stunning and critically acclaimed series lasted for 125 issues, ending in 1983. The series was accompanied by a Master of Kung Fu Annual and 4 special Giant-Size Master of Kung Fu issues. More then 35 years later the series received an issue 126 published as a one-shot.
But who is he? Well, look at it this way. He's a pure-intentioned, noble martial artist with a discipline and focus that makes Captain America look sloppy. Raised to become an assassin by his father, he escaped his fate and dedicated his life to taking down his father's criminal empire, initially as part of the British secret service. And he's perhaps the only man capable of doing so…

What are Shang-Chi's powers?


Unlike many Marvel characters – but a lot like most martial arts heroes – Shang-Chi traditionally has no superpowered abilities. However, he is an expert in all forms of armed and unarmed combat. His mastery of his chi gives him the ability to surpass normal human physical limits by small amounts, so he is able to withstand amounts of pain and fatigue that would fell a normal person – but he's not mystically powered. He doesn't have iron fists, he doesn't have unbreakable skin, he's just really good at what he does.